When I came to you, brothers and sisters, I did not come proclaiming
to you the testimony of God with lofty speech or wisdom.
For I decided to know nothing among you except Jesus Christ and him crucified …
that your faith might not rest in the wisdom of men but in the power of God.
I Corinthians 2:1-5
---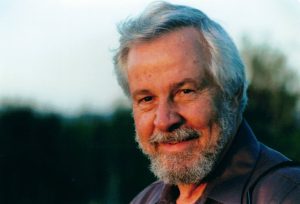 The Reverend Bruce Van Blair
In 2011, The New Church (TNC) called its first pastor, The Reverend Bruce Van Blair. The founding members of TNC had been blessed by Bruce's ministry in past churches over many decades, though they were now scattered all over the country and Bruce had retired. It was through seeking a way to connect to his ministry that the Spirit helped us design The New Church. Bruce agreed to come out of retirement to minister to us, and he led us faithfully for over ten years before passing from this realm in 2022. During that time he preached and taught and counseled and led us, and we continue to use his lifetime of sermons, classes, retreats, and insights as we carry on in our little corner of the Kingdom.
Bruce used to say that all pilgrims – serious followers of Jesus – have had tougher, more interesting, and more blessed lives than it ever looks like on the surface. Spiritual experiences and awakenings are what make the Path – the Christian WAY – both endlessly exciting and worth all the trauma and dark nights that go with it. He saw TNC as a place to gather, worship, learn, practice, and grow together on this incredible journey Jesus invites us into.
Those of us in The New Church think Bruce had a deeper grasp of the Bible than most of the teachers we have known. While Bruce seldom claimed to be "right" and he encouraged each of us to follow the Holy Spirit and frame and follow our faith for ourselves, it is clear to us that right or wrong, Bruce Van Blair had a deep and abiding loyalty to Jesus.
Bruce was a graduate of Andover Newton Theological School, and his first church was in Paxton, Massachusetts, where he began his full-time ministry in February 1959. Over his sixty-three years in the ministry, Bruce served as senior pastor for seven churches. All throughout, he was married to the incomparable Mariana Van Blair – a voice teacher, accomplished photographer, story-teller, and world traveler. Bruce was also a recovering alcoholic (nearly forty years) and an insightful astrologer (studied nearly half his life). Over the years he was also an avid bird-watcher and a challenging opponent in chess and tennis, and he enjoyed sharing good books and movies with friends. We miss those times, but we know he is always nearby.